I admit it.  I'm disorganized.
I'm also a procrastinator.  I really like to wait until the last minute to do things, especially if it requires much planning.
I need help in the "get organized" department.
It's true!
I'm a super busy homeschooling mom of 6 kids!   I mean, the kind of busy where I have so many things flowing through my mind, that I may forget somewhere I have to be rather easily.  This year, I'm trying to take some baby steps towards changing my disorganization and procrastination.    One of the ways I'm doing this is by writing more things down.  When I was given the chance to sample one of these NeuYear Big Wall Calendar's, I was eager to give it a try, as it could be one of those tools that really keeps me on track!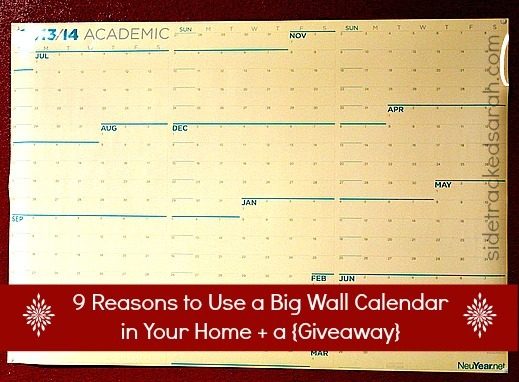 9 Reasons to Use a Big Wall Calendar in Your Home
When you're trying to make plans in advance, you can see the whole year at a glance.  This is really important for me, when I'm scheduling doctor's appointments and field trips!  The calendar I have is an academic one that starts at July 2013 and ends at June 2014.  I LOVE seeing the 2 weeks of vacation marked off!
Your kids will get excited to help you get organized.  My kids were all taking turns writing down everything they could think of that we have planned (or ever had planned in the past like this shot of my daugher writing in her birthday that was in August).

Your husband will know where you were today or what you did all day.  🙂  Yes, it's happened to me before.  My very loving husband, walked into a house that needed some serious help and he said those words.  "What did you do all day?"  I understand why he'd want to ask that with the house looking the way it did, but now, it'll be easy to show him exactly where we were and why we had no time for house cleaning that day.
You can color code your markings on the calendar according to who has what.  Assign Kid 1 – red.  Kid 2- Blue.  Kid 3 – Green etc.  It'll be easier to find a certain child's activities by seeing those different colors.  I started out not doing that, but then when I switched over to the color coding, the calendar became so much easier for me to read.
You can decide between dry erase or paper coating.  I was able to try out both.  I can see the benefit for both.  The paper product you can use pencil or pen on.  If you use pencil, it'll be easy to change what you wrote down and it'll be more permanent than dry erase.  The dry erase, is easier to color code and you can still change it easily, so long as you don't have a child who loves using erasers.  I prefer the dry erase because I like to see the color.
You can hang it vertically or horizontally.  On one side is the horizontal orientation, on the other side it is vertical.  I chose horizontal because I wanted to hang it high enough that my toddler can't reach it very easily.  He's been known to draw on random surfaces…and I don't want him messing with our calendar!
You'll stop missing appointments or being surprised by them when the doctor's office calls to remind you about that appointment you have tomorrow!

You can check your calendar each night before you go to bed, at the beginning of the week, etc., to keep you on track.
You can set goals and watch them get accomplished!  There's no better feeling than realizing that you have accomplished a goal that you had been planning on trying to accomplish.  I love looking back over my weeks and months realizing that I accomplished way more than I expected I would.
 Buy It
Would you like to have your own NeuYear Academic Calendar?  You can buy one and get 10% off by going here.  You can also earn 10% back on any calendar that you refer to your friends to purchase.  Just go here and sign up for a discount link to forward to your friends.
Win It
You also have a chance at winning one of 3 calendars that I'm giving away here on my blog.  If you decide to buy a calendar, but later win one, NeuYear will refund your purchase price!  How awesome is that?  You will have your choice between dry erase or regular paper calendar.
a Rafflecopter giveaway