Winter time can be such a challenge when it comes to feeling your best!  For me, I'm already largely pregnant (33 weeks along now and feel like I'm about to pop).  Every little thing seems so hard to do.  We get sick so much easier in the winter; we stay inside so much longer, due to the horrible temperatures outside; and we are generally less active.  This can lead to depression or sometimes just boredom and hopelessness.
(You will find affiliate links in this post)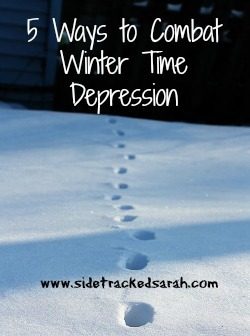 How Can You Combat Winter Time Depression?
1.  Eat Well & Drink Your Water!
I know, sometimes it seems like this is the answer for everything doesn't it?  Well, you definitely can't go wrong when you choose to eat healthier foods and drink plenty of water, too.  I know that sometimes, I'll be feeling blah….and then I drink a big glass of water and suddenly I perk up and feel much better.  I think my body was trying to tell me it needed something else.  For food, try to stay away from too much sugar and consume plenty of raw vegetables and fruits.
2.  Get Sunlight & Fresh Air
I know it's cold.  Especially for you northerners!  But, if you don't get enough sunlight in the winter time, you're just asking to feel down and out.  If you could get outside for short periods of time when the sun is shining bright just to breathe the fresh air and take in some sunlight it will help.  Your body needs to absorb Vitamin D from the sun.  In order to do that, you need to expose as much skin as you can.  For me, it's just my face, but I still feel so much better when I do.  If you refuse to step outside unless you absolutely have to, be sure to open your blinds every day and let as much sun and brightness in as you possibly can.  Even if you don't get the benefit of the Vitamin D, you'll still feel better seeing some brightness through that window!  Of course, you could also try a light lamp to see if that helps as well.  Many people have said that they can't make it through the winter without theirs.
3.  Exercise
It's amazing how much raising your heart rate can help you to feel better.  I have really been struggling with doing anything physically.  Everything seems so much harder than it used to.  I know I'll return to a more normal state, after this baby is born, but for now, even a short walk around our property makes me feel so much better.  Of course you may not want to go outside and if you don't, you could always go tot he gym or do an exercise video (like my favorite, T-tapp) at home in front of your TV or computer.  Getting your heart rate elevated and your body feeling like it's going somewhere gives you a boost in confidence and just makes you feel better!
4.  Spend Time With Friends
Friends have a way about making you forget that you're not feeling your best.  They distract you, encourage you and are generally there to build you up and not to tear you down.  I'm lucky enough to have a mom's group where I can go if I need some friend fellowship.  They meet every week.  Also, I tend to meet a couple other friends for lunch every week or two, just to give me a brain boost and talk to other moms like me.  It really helps my disposition.  Of course, you don't have to get alone with your friends, you could always invite another family over, talk on the phone  to an encouraging friend or you could even meet a friend at the gym.  Then you could complete 3 & 4 all in one step!
5.  Stock up on Omega-3's
My husband struggles the most with feeling blue during the winter months.  We keep a bottle of Flax Seed Oil Capsules available to him at all times.  It calms his brain and makes him feel so much better and more able to focus, too.  Of course, you can get your Omega 3's from other sources, too.  Cod Liver Oil is a great source for Omega 3's.  You can also get them from walnuts, sardines and even salmon.
For more posts on how to survive the winter blahs, be sure to click on the picture below: