When I start talking about how to save money on groceries without coupons, it always reminds me of those days when I tried couponing.  We live in a small town, where Walmart has been our main grocery store.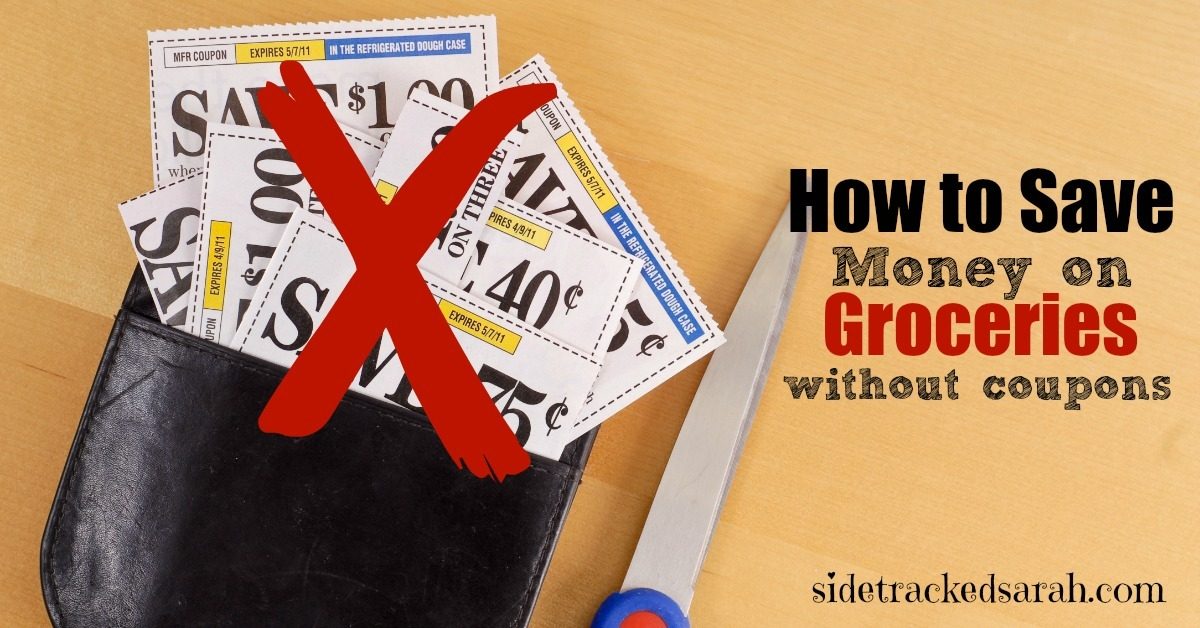 Couponing hasn't been easy here in our area for years.  I used to hear about all of the crazy deals that people would get by using coupons and I would be totally jealous and think, "I have to try this, the next time I go to a big city".  So, one day I did.  I went into the store, totally glassy eyed and unsure of where to begin.
My coupons were a mess.  My kids were misbehaving and I wasn't sure where to begin.  When I arrive at the first product that I could buy for really cheap or free, I see another shopper, with a BINDER full of coupons.  A WHOLE BINDER!  If you're an avid couponer,  you know exactly what this is.  It's their way of organizing them and being able to see exactly what they have and when it expires.   But "wow", I think to myself, "that is some serious dedication".
I never seemed to have the right coupons on hand, because I never planned ahead enough to get them.  Yes, I would have a few good ones, but I always knew I could be doing better if I remembered to order those coupons on Ebay.  After a long and frustrating trip, where I saved several dollars on a bunch of food that I wouldn't normally buy, I decided this was not for me.  While I realize that you can save some serious money on groceries by using coupons, I prefer to do it the no-coupon way.  My brain is just not organized enough to chase after coupons all the time.  It was way too time-consuming for me.  Yes, I could get faster at it, but I really didn't want to.
Instead, I decided to learn how to save money on groceries without coupons.  These actions now come naturally to me.

How to Save Money on Groceries Without Coupons
Shop the loss leaders & sales ads at grocery stores – Many stores will have amazing deals on the front and back pages of their sales circulars.  This is where you will find the best deals.  If you live in a large town, I would suggest getting all of the ads to the specific grocery stores or at least look them up online and make a list of the things that you should stop by and grab.  Pay close attention to the meats and produce, as this is where the most significant discounts happen, but there's always other products thrown in that you won't want to miss.
Shop the clearance racks – Most grocery stores have a clearance section, even if it's just a unmarked cart at the back of the store.  At our local Walmart, there's a set place where they keep their day old bakery items, where we can get things for close to 50% off.  I've been known to buy large loaves of french bread for 50 cents a loaf.  We also buy hoagie buns and other breads to go with our dinner.  In addition to bread, most stores will have a discontinued groceries section.  This section may also host the scratch and dent cans.  Depending on your store, you should be able to find some significant discounts on these items.
Figure out when they mark down meat and shop around that time.  For us, by going to Walmart in the morning, we can find specific packages of meat marked down.  If you have another grocery store, it could happen late at night, or even in the middle of the day.  One of my favorites, is to find the day old Rotisserie chickens that are 50% off for $2.50.  We can throw together a quick lunch or dinner with a Rotisserie chicken.
Cook from scratch – I have found that if you cook things from scratch and do not buy convenience foods, it will help you save a lot of money.  The things you are buying for convenience, usually aren't that hard to make on your own.  Have you ever made a cake without a mix?  It's just a little bit of flour, sugar and baking powder.  Nothing major.  While cake mixes aren't normally that expensive, that's just an easy example of something simple that you can cook.  Don't be afraid to learn how to cook things from scratch.  Another benefit, is that it usually tastes a lot better!
Buy in bulk – I've found that if I buy food in bulk, I can save quite a bit of money.  This past week, Zaycon foods had their chicken breasts all the way down to $1.49 per pound.  The catch is that you had to buy 40 pounds and have to agree to pick it up in your town (or a neighboring town) on a certain day at a certain time.  It's not that difficult to use up 40 pounds of chicken over the course of a couple months.  Just plan chicken dishes into your meal plan.  In addition to chicken, I also tend to buy cheese, peanut butter, yogurt, flour and oats in bulk as well.  For the cheese, I usually save $2 or more per pound buying a large bag at Sam's.  I freeze what I won't use quickly and pull it out as we go.
Buy store brands – When I used to shop with coupon, I was often amazed that if I would have just bought the store brand of that product, I wouldn't need the coupon, as the name brand would be nearly the same price once I used that coupon.  You'll notice as you get better about paying attention to prices, that not all stores are pricing their stores brands the same.  Some will have canned vegetables at 49 cents and some will have them at 79 cents.  Be sure to take note and try to plan your shopping trips accordingly.
Use online apps – The only exception I give to using coupons is if it's insanely easy.  Sometimes there will be an online app that automatically applies coupons from the purchases I have made.  Some stores have their own apps, and then there's some stand alone apps like Ibotta and Favado, that will help you find deals at each grocery store.  Even Walmart has an app that you can use to scan your receipt into for additional savings.  This is not one of the ways I prefer to save money on groceries, because it doesn't come natural to me to look at these apps, but I like to use them when I think about it.
Pay with a credit card that gives you cash back OR Pay with cash. – I know it sounds weird, to put both of those options on one line, but take you and your financial self control into account when deciding what to do here.  If you're really good with your money, buying groceries on a credit card that you will get cash back on, is a good thing.  The key is to go and pay that amount off immediately, or at the latest, at the end of the month.  If you're not good with money and don't know that you would pay that back, the last thing you want is to be charged interest on your grocery purchases.  In your case, setting a budget and paying cash for your groceries would be the best option.
Stick to a grocery budget –  Speaking of setting a budget….  Do you have a budget for your grocery shopping?  If things are tight and you know you need to cut back on spending, this is the one area that you can really save some money.  If you give yourself a set amount to spend, then you are forced to only spend that amount.  You will get creative with what you make for each meal and you'll realize that you really can do ok on a smaller budget.  You just have to plan accordingly.
Eat less meat – Meat is definitely one of the most expensive pieces of the meal and if you can reduce how much meat you consume, you'll definitely save money.  You can try adding less to soups and using cheaper cuts of meat, as well.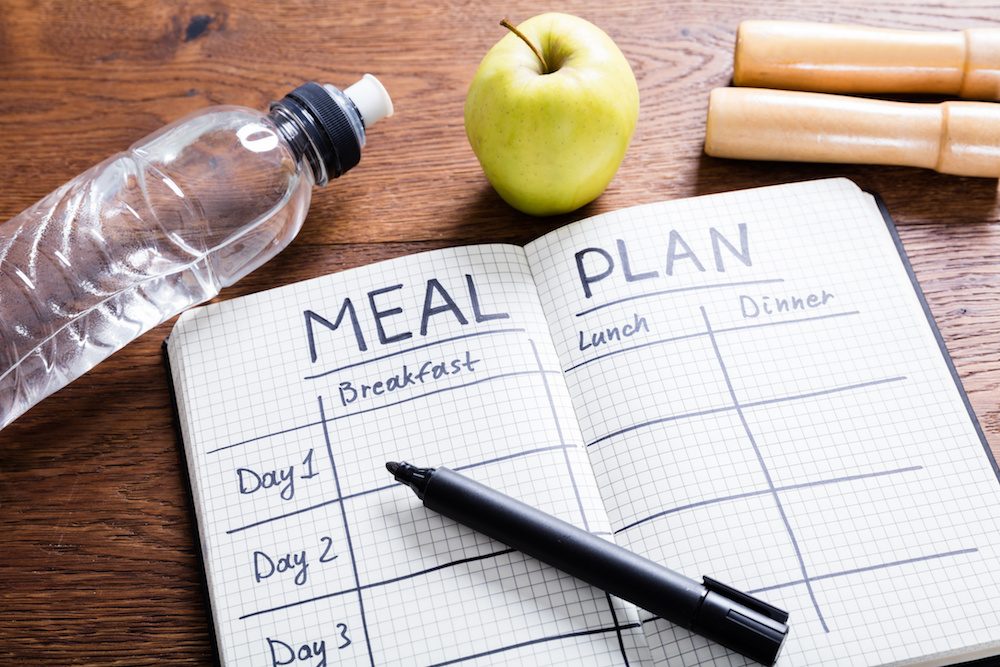 Meal plan – Meal planning can help you save a lot, because you're not running to the store on a whim, hoping to buy something that you can cook quickly.  You already know what you're going to eat.  This is one of the reasons that I started making my Freezer to Slow Cooker meals that  eventually turned it into a subscription for people like you.  Many, many users of it, have shared how they save money by using it weekly.  It's pretty cool how that works, because it sure feels nice to be organized, at least in one area.
Better yet, Meal Plan around your freezer & cupboards – Instead of letting that meat sit in your freezer for a year, why don't you take a regular inventory of what's in your freezer and in your cabinets and try to plan meals around what you already have.  It's a great way to save money.  Yes, you will likely have to run to the store for a couple of ingredients, but you'll save quite a bit by just using up what you already have.
Don't shop hungry – Isn't this the cardinal rule of grocery shopping?  Never, ever, ever, go grocery shopping hungry.  Ha, I should put that on a shirt and just wear it when I go grocery shopping to see how many people I can make laugh.  But seriously, if you do go grocery shopping hungry, you are more likely to impulse buy something that you don't need or wouldn't normally buy.  It's just not a good idea.
Shop for produce when it's in season – Seriously.  You always want to buy a load of strawberries in June, not December.  Same goes for other produce.  If you buy a lot of it and have enough time, you could even put it up in the freezer or can some.  Regardless, try to eat the seasonal fruits and vegetables while they're the least expensive.  My poor son wishes that watermelon was in season all year around.  I can't bring myself to pay $7 for a watermelon when I know they'll be $4 before long.
Know what a good price is. – Do you even know what a good price of your commonly purchased items are?  For me, I usually have a good idea, but if I ever need to know, I could keep a log of my commonly bought groceries in a notebook that tells me the prices of my regularly bought stuff, so I can compare from store to store.
Compare in-store prices – I'm one who uses the label on the Walmart shelf.  It will tell me how much per pound it is.  The other day we were buying a large container of hot chocolate mix and found 2 similarly sized packages.  One as a name brand, one was not.  We almost went with the name brand product, when we realized that the store brand had a much larger quantity in it for nearly the same price.  It was a much better deal to buy the store brand than the name brand.  Keep an eye on those stickers that break the price down by pound or ounce.  It helps me quickly calculate something and keeps me from pulling out my calculator.
Stop Convenience Foods – Convenience foods are one of the worst on the budget.  You are paying for the convenience.  Stop buying them if at all possible if you are in need of cutting your food budget.
Drink water – I know, I know, every where you turn, everyone tells you to drink water.  Well, the truth is, you can save a lot of money if you stop buying soda, juice, beer, etc.  Just drink water.  🙂  I know, you won't stick to that all the time, but take notice how much you spend each month on liquids and decide just how much you can cut it down.  The key is knowing what you're currently spending, so you know how low you want to go without feeling punished.
Use your leftovers – There's several ways to handle leftovers.  You could save them for lunch the next day.  You could freeze them as TV dinners for times when you need a quick, last minute meal.  You could turn them into something else by saving scraps in the freezer until you're ready to make a big pot of soup or a casserole.  Regardless, leftovers aren't just for throwing away.  You can make the most of your money by utilizing them!
Use a list – How many times have you gone to the grocery store without a list?  And when you do, do you come away with a ton of items you don't need?  Yeah, me too!  I mean, it's not always…but….it happens often.  When you have a list, you're more prepared.  Use your list making skills to help you save money!
And last, but certainly not least, shop at Aldi.  I'm telling you, when I go to Aldi, I can completely fill a grocery cart for $100.  If I go to other stores, the same amount of stuff is $200 easily.  Their canned goods are cheaper, their produce is cheaper, their meat is cheaper and they have great quality of foods.  Yes, it's mostly off brands that are produced specifically for Aldi, but we're saving money by shopping store brands anyway.  So, this is one of those shopping ideas that makes a ton of sense.  If you have an Aldi nearby and don't use it, you're just giving money away.
Whew…. if you've made it this far, you are dedicated!  I didn't know that I had so much to say about saving money on groceries until I spelled it all out.  I hope this post helps you learn to be more frugal when it comes to grocery shopping.
Are you interested in being frugal in other areas of your life?  What if I told you that there's an amazing course on being frugal in the Ultimate Homemaking Bundle?  It normally sells for $99 but when you buy the bundle at $29.99, you get that course included along with 100+ other products!  The Ultimate Homemaking Bundle is on sale for only 5 more days (ends May 2, 2017) and TODAY (Thursday 4/27/17) ONLY, you also get the free eReader version when you purchase (a $10 value).  PLUS, I'll throw in a special coupon code where you can try a month of my Freezer to Slow Cooker Subscription for free.  Just forward me your receipt at sidetrackedarah@gmail.com once you complete your purchase and I'll send you that coupon code.
If you're already a subscriber to the Freezer to Slow Cooker meal plan, I'll send you 4 more weeks of meal plans that you haven't received yet, to add some variety to your life.
Related posts: