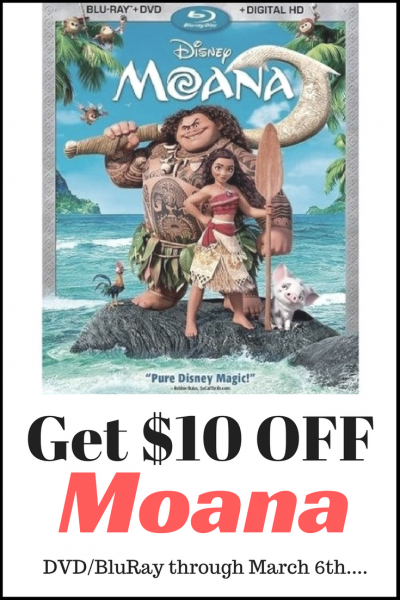 I know, I'm normally just your slow cooker and Instant Pot friend, but this week I've been made aware of a couple of deals that I hated to save for myself. I figured you'd enjoy knowing about them, too. (If not, so sorry… more recipes coming soon, I promise!)
A couple of weeks ago, my husband and I went shopping in a nearby city and while we were there, we took the kids to the cheap theater to see the newest Disney movie, Moana. The funny thing though, by the time it was time to go to the movie, Ryan (my husband) and I were so ready to go home. We'd already been shopping for several hours with 7 kids in tow and didn't really feel like going to the movie we promised them.
I was trying pretty hard to get out of it, so I offered them a choice. Either I'll buy you the DVD and you can watch it as much as you want or we can go to the show. (They were going to cost the same for me). Believe it or not, they chose the experience of going to the movie theater, with plans to buy the movie themselves if they could save up enough money. I was a little surprised, but since we did promise it, we followed through, lol.
Anyway, fast forward to today, my kids have been talking about how much money they have pooled together so far to get that movie and low and behold a new offer came through from TopCashBack. In my email from them, it stated that new members can get the Moana movie on BluRay/DVD for $10 off when preordered by March 6th! Unfortunately for me, we're no longer eligible for this offer since we're not new members, but one of the grandparents will probably utilize it instead.
I still love TopCashBack though, even if I can't get this offer myself, because it helps me get cash back on purchases that I'm already making online….especially at Christmas season. I log in to TopCashBack before I click through to any stores I'm ordering from in order to get a percentage of my purchase back. (most stores that you would shop at online are available for cash back through TopCashBack).
If you want to take advantage of this special deal, here's what you need to do:
1. Go here and sign up for a new TopCashBack account.
2. Go to the TopCashBack offer page and click on the Get Cash Back Now Button.
3. Pre-order for $22.99 for the DVD/BluRay combo of Moana from Walmart and use free Site 2 Store pick up. You'll pay full price at first.
4. This offer is available for you to preorder by March 6th, 2017 or until supplies last.
5. 21 Days after your order has shipped, you'll get the $10 back in your account.
And now you're wondering how this can be legitimate, right? It's TopCashBack's way of getting new members to shop through their links. They earn money from you when you shop, but they share some of that money with you as an incentive for you to shop through their links. I can guarantee that it will work as long as you follow all the instructions and click through the correct links. I've done a deal with them before like this and my husband has as well. We both got our cash back as promised.
Related posts: