Do you struggle to keep your house clean?  That can be a big space, or at least it can seem that way!  Being busy all the time, means we don't get as much cleaning and picking up time as we need.  So, instead of focusing on the whole house (since we're the busy, running around like crazy type), let's talk about how to clean the kitchen first.  We can move on to the rest of the house later.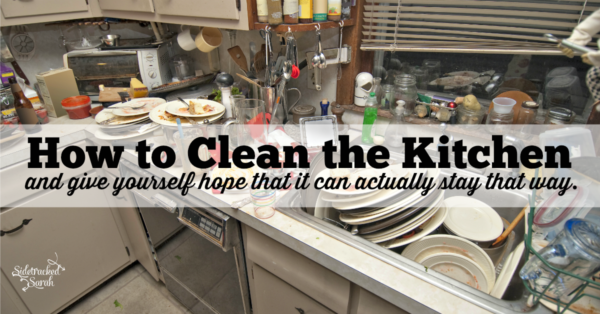 Now, before we get started.  I just wanted to reassure you that I'm not going to give you a great big long to-do list.  While there is a time and a place for that, we need to talk about why your kitchen is always a mess.  Lets look at the root of the problem.
The reason your kitchen is in a perpetual state of disarray is not because a tornado hit your house nor is it because you don't have a dishwasher.  Frankly, it's because you have not set up good habits for yourself.  Sounds simple, right?
How to Clean the Kitchen
and give yourself hope that it can actually stay that way.  
 I've been reading through my friend Dana White's new book, called How to Manage Your Home Without Losing Your Mind.  I swear, when I read what she writes, it's like she's living in my house or reading my thoughts.  She totally get why people like me have messy spaces.  The good thing about that is that she gets how my brain works and why I don't have habits.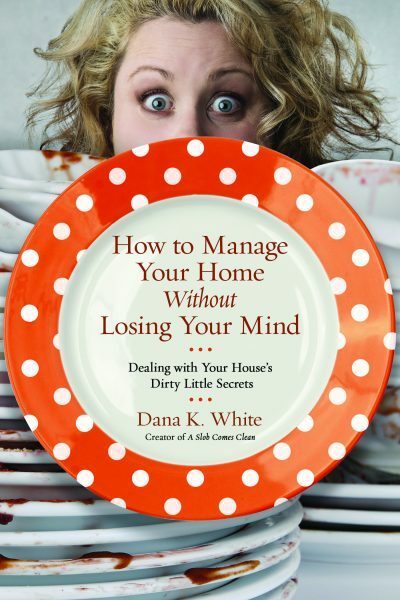 In Dana's book, she encourages us to develop very small, daily habits.  As crazy as it sounds, it all starts with doing the dishes and then moves on from there.
So, yes, I'm actually telling you that the key to a clean kitchen is by developing good, daily, doable habits.  Habits that start with committing to do the dishes.  There's no huge trick.  It's just making a choice to do it, until it becomes natural.  
If you don't yet have a habit of doing the dishes, it's time to get that habit in place.  Then you can move on to the next one.  And no, there is no room for negotiation with habits.  You just do them.  No questions asked.  No excuses.
As Dana says in here book….
In the beginning of my own deslobification process, I called the things I was adding to my daily list nonnegotiable tasks. This was what they were in the beginning. I was figuring out which things had to be done daily and not allowing myself to negotiate my way out of those tasks.

I am a master inside-my-own-brain negotiator. I can/could/do come up with a million reasons why now isn't a good time, why it's logical to wait until the mess is bigger.

At some point, I started calling these nonnegotiables daily tasks. I'd whittled them down to the most essential and realized I didn't need to keep adding more. My house was looking so much better just from small things I was doing every day. I understood which ones made the biggest impact.  I was done negotiating.

When I chose the four most basic tasks that make the biggest impact in "28 Days to Hope for Your Home," I called them habits. They felt natural because I did them every single day.  They had a place in my day's routine.

Now, I think of these things as pre-made decisions. This perspective works for me.

I don't get to decide if certain things need to be done. I know for a fact they do. Just like I don't get to decide the sky is blue.

I got into this mess because I was so good at justifying not doing the dishes. I was too busy, there weren't enough dirty dishes to "waste" water, another time would be a better time—whatever came up that sounded the least bit logical so I could get out of doing what I really didn't want to do anyway. My reasons make so much sense in the moment.
Does this sound familiar to you, too?  Are you good at justifying not doing the dishes like I am?  Let me encourage you to check out Dana's new book, How to Manage Your Home Without Losing Your Mind and lets start these habits together!  But, lets just start in the kitchen.  We can move on from there!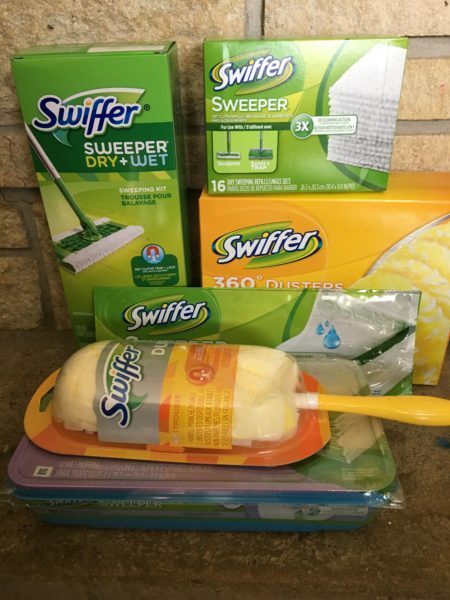 I was given a review copy of this book and also got a neat little pack of cleaning supplies from Swiffer.  You should have seen my 5 year old take off using the new floor cleaner.  He started by dry dusting it and then used the wet mop on it.  It was awesome.  He did a great job!  (Hmmm, maybe that should be his daily habit?  LOL)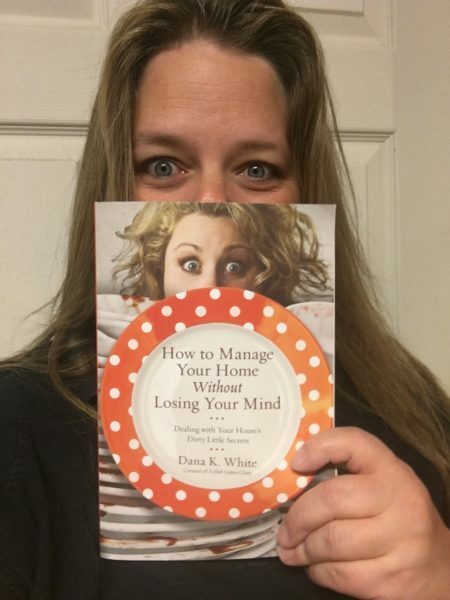 Would you like the chance to win this book?  Leave me a comment and tell me what part of your house suffers the most.
Related posts: