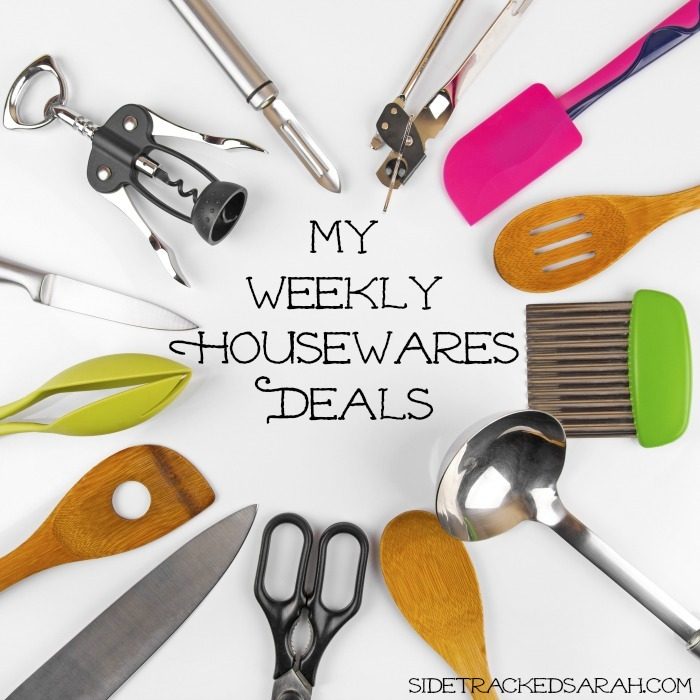 (This post contains affiliate links.)
Today's kitchen and housewares deals are mostly in the KITCHEN!  YAY!!  We love our kitchen tools, don't we?  Well, this week, I think I'm most excited about the Black and Decker rice cooker for around $14, but there's other great deals, too.  Be sure to check them all out below!
Please note:  These prices can go up at any time, so if they are not the same as listed on this post, the sale has ended.

Pyrex Prepware 3-Piece Glass Mixing Bowl Set $12.49

AmazonBasics Microfiber Sheet Set – Twin Extra-Long, Beige $9.59

AmazonBasics Fade-Resistant Cotton 6-Piece Towel Set, Crimson $13.31

AmazonBasics 2-Piece Two-Tone Microsuede Comforter Set – Twin, Black $11.93

Rachael Ray Stoneware Set of 4 10-Oz. Ramekins Bubble and Brown Singles, Assorted $13.59

7-Ounce Ramekins by Hiware, Ceramic Ramekins, Porcelain Ramekins, Set of 4, Gray $12.59

(Set of 12) Stainless Steel, Individual Condiment Sauce Cup – 2 1/2 oz $6

Lodge L8CB3 Pre-Seasoned Cornbread Wedge Pan $14.44

BLACK+DECKER RC503 Mini 3-Cup Cooked/1.5-Cup Uncooked Rice Cooker, White $14.44

Joyfor Stainless Steel Whisks, Kitchen Whisk, Balloon Whisk Set $9.98

Ozera Reusable Popsicle Molds Ice Pop Molds Maker, Set of 6, Green $6.99

Rubbermaid TakeAlongs Assorted Food Storage Container, 40 Piece Set, Racer Red $10.99

Good Cook Set Of 3 Non-Stick Cookie Sheet $12.36

Lodge L9OG3 Pre-Seasoned Cast-Iron Round Griddle, 10.5-inch $12.74

Culina Fine Mesh Stainless Steel Strainers, Silver, Set of 3 $8.99
Related posts: