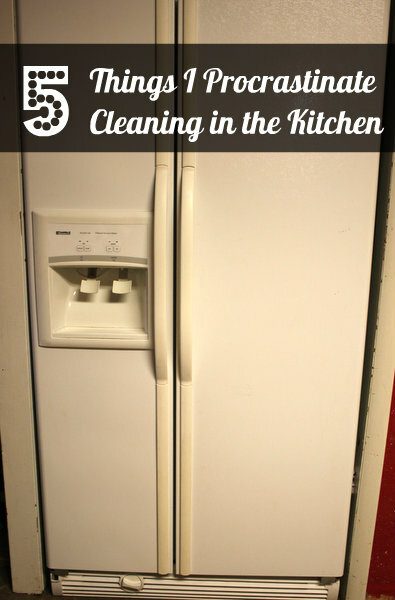 5 Things I Procrastinate Cleaning in the Kitchen 
(and how I'm going to take control of them!)
The kitchen is the room of the house that always has something going on in it.  In mine, there's constantly someone wanting food or drink throughout the day.  In my family, if someone's not hungry between meal times, it's a miracle!
With all that action going on in the kitchen, it's easy to delay cleaning anything but the dishes.  I find that I don't even notice the dirty appliances, until it's time to have company or when it's time to take a picture. As you may have noticed, I'm trying to stop procrastinating in my life.  The kitchen is one of those areas that needs some major improvement!
What are My Most Commonly Neglected Places to Clean in the Kitchen?
The Oven – I'm good at wiping the stovetop off, but I'm bad at wiping the rest of the outside of it down and cleaning out the inside. I even have a self cleaning oven and I still don't do it very often.
The Refrigerator – Need I say more? I clean it, but it never lasts. There's always food shoved to the back that needs pitching or spills that need wiping. I can't ever seem to stay on top of this task!
The Microwave – I really hate cleaning out my microwave. I even found a great way to do it, but I still find that I don't do it nearly enough.
The Toaster – Oh the crumbs that the toaster lets go of. I will wipe down the outside, but I rarely clean out the crumb trays in the bottom. When I move the toaster around on the counter, crumbs fall everywhere. Not good.
The Windows – The windows are right above my sink, which is really nice when it comes to doing dishes and being able to look out into the great outdoors. It's not really nice though, when everything is always splashing up on your windows. Cleaning windows is definitely not one of my top chosen chores.
How Can I Improve This Mess?
I've been doing some thinking on how to get myself to do better with this and here's some of the ideas that I think could work for me.
Pick one item to thoroughly clean each week.

Pick one item to wipe down each day, 5 days a week (I wonder if that's too often?)

Set aside a day each month to tackle all 5 of them. Once you start doing it regularly it won't take you nearly as long in future months.

Keep a cleaning schedule in the kitchen, lining out which chores you want done and when.

Delegate!  Have a child pick one to clean each week.  
Do you find that you have the same problem areas in your kitchen? Or are your problem areas completely different? What works for you to keep these areas clean?  How often would you deep clean these items?
Are you a Procrastinator like me? If so, you're invited to the Stop Procrastinating Group on Facebook. Each Wednesday afternoon we meet to chat and clean. We spend 15 minutes cleaning and 15 minutes sharing about our successes as well as chatting about other related subjects. You can't make it on Wednesdays? It's OK. You can still join in and discuss at other times during the week. It's motivating AND it's fun! I hope you'll join us!
Related posts: