Happy Saturday to you all!  I don't usually post on Saturdays, BUT,  I know many of you subscribed to my blog yesterday, with the hopes of downloading the "25 Days of Christmas Crafts for Children" e-book.  I didn't want to leave you waiting for Monday to get your link for the new E-book.  You may forget by then!
Tonight, I checked my email and one of my extra special readers, who keeps in contact with me, had emailed a picture of an easy Thanksgiving craft that she had come up with.  I thought it was perfect for sharing on the blog for all of you and asked her permission to post it for you!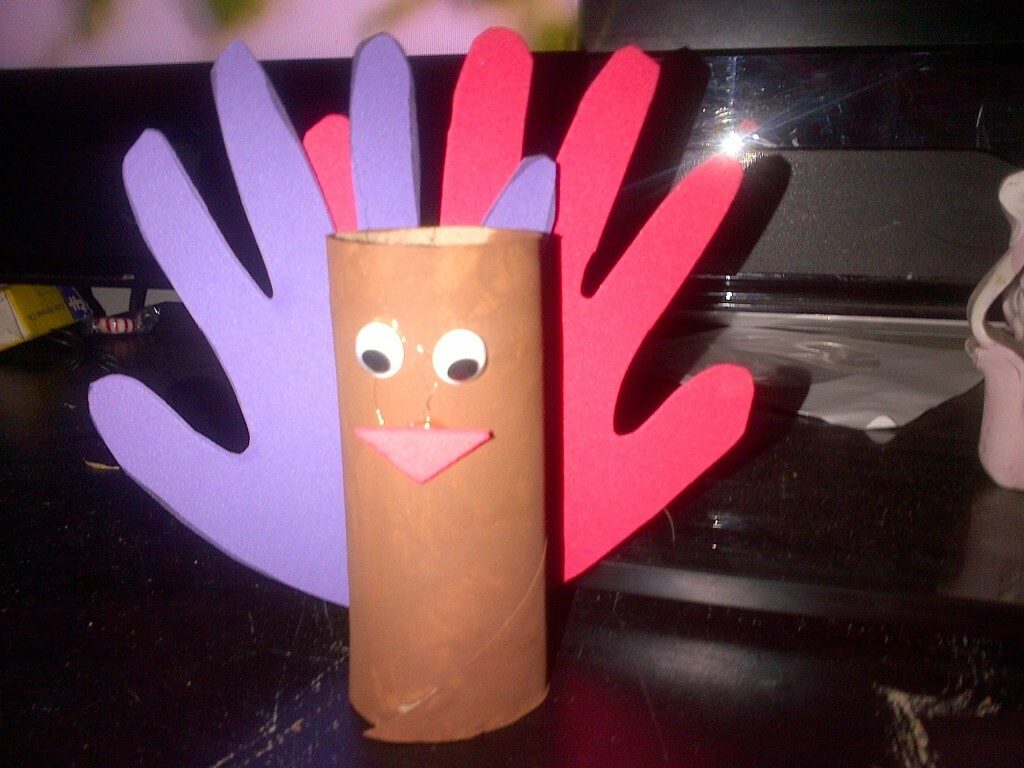 What you need:
toilet paper tube
construction paper
scissors
glue
googly eyes
brown paint
What you do:
Paint your toilet paper tube brown.
 Trace and cut out your child's hands.
After the toilet paper tube has dried, attach your hands as wings, your googly eyes and triangle beak.
And now, you have a cute, hand print style turkey!  I love crafts that use hands or feet!  I think they're super cute and give you a way to compare from year to year how much they've grown!
I hope you're having a wonderful Saturday….I'm busy cleaning and decluttering.  I'm sure I'll be telling you more about it very soon.
OK….now…if you're reading this in an email or a feed reader, that means you're currently a Subscriber and your link for the free E-book should be below.  If you're reading this on the blog, you will have to subscribe by RSS (which is email or Feed Reader) and your link will come in the next email that I send out.  Make sure you confirm your subscription or it will be inactive.  🙂  Thank you so much for supporting me here.
Related posts: