Welcome back to the 5 Days of Using Your Slow Cooker Series!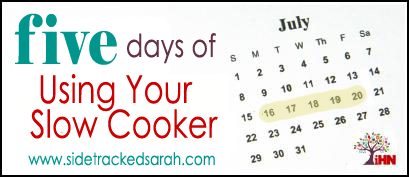 Day 1 – Freezer to Slow Cooker, Week 4 with Shopping List Printable
Day 2 – Slow Cooker Tips & Tricks
Day 3 – Foods to Avoid Cooking in Your Slow Cooker
Today is Day 4 and we're talking about how to convert your recipe so that you can cook it in the crock pot.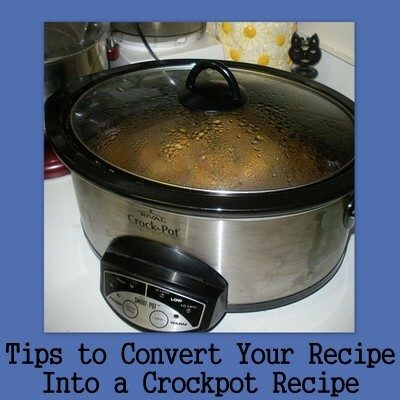 You have the perfect recipe, but can you cook it in the crockpot?  Sure, why not?  Of course, depending on the recipe, you may want to be aware that it may not turn out exactly like you're used to.  The longer the food cooks, the longer the flavors meld together.  Sometimes that makes it even tastier, but sometimes, that particular recipe would be better off not being slow cooked.  It's OK though.  We still love the slow cooker even with it's small limitations!
Speaking of melding flavors together……   Do you remember when the Turbo Cookers were big? The skillet with the big dome lid that steams your food?  Several years ago, I decided that I had to have one in order to be the "Domestic Goddess" that I knew that I was supposed to be.  I got one and didn't read any directions.  I decided to make lemon chicken.  I poured a bunch of lemon juice in with my chicken and steamed it for at least 30 minutes.  I was so excited to take a great big taste of that lemon chicken!!  Do you want to know what it tasted like?  Lemon.  No chicken flavor  at all.  It was the most sour chicken I'd ever tasted.  If I didn't feel the warmth and feel the texture, I would've sworn it was an actual lemon I was biting into.  Yes, so there's a science on WHEN to add certain ingredients.  Some things are better added at the end of the cooking time as I shared yesterday in my "What Foods Not to Cook in Your Slow Cooker" post.
So, how exactly DO you convert a recipe for the crockpot?  Well….it's not rocket science really.  Obviously, if it's something that you stir all together, it's super easy to stir it up and put it in.  But, what about those other recipes?
Let me give you an example.
Say I wanted to make this Spicy Garlic Lime Chicken recipe.  This particular recipe is super easy to convert for the slow cooker.  It is a whole bunch of spices.  I'd mix up my spices and sprinkle them all over my chicken breasts, both sides.  Then, I'd cook them in the crock pot for about 4-6 hours on low.   After they were done cooking, I'd remove the chicken from the slow cooker and stir in the garlic powder and lime juice to the juices that were already there.  Then I'd return the chicken to the crock and stir it all up, making sure the liquid coats all of my chicken pieces.  Maybe let it cook in there on high for a few more minutes.  I would have totally eliminated the butter and oil.
OK, so that was an easy example, but….you can do it with harder recipes, too.  For example, this Sausage Casserole appears harder because you have to layer the ingredients.  I would actually just do this one as it is written, but place it in the crockpot instead of in a baking dish.  Then, all you have to do is adjust your cooking time.
When you convert your oven or stove top recipe, use these timing guidelines:
If it takes 15-30 minutes in the oven or on the stove top, cook on low for about 4 to 6 hours or on high for 2-3 hours.
If it takes 35-45 minutes in the oven or on the stove top, cook it on low for about 6 to 8 hours, or on high for 3 to 4 hours.
If it takes 50 minutes to 3 hours in the oven or on the stove top, cook it on low for about 8 to 10 hours or on high for 4 to 6 hours.
Keep in mind that the crockpot cooks at about 200 degrees on low and 300 degrees on high.  Also, crockpots generally create moisture as they're cooking, so you'll want to cut your liquids down 1/2 to 1/3 of the oven recipe amount if you decide to convert a recipe.  If you need to cook some excess liquid off, you can leave the lid off for several minutes to an hour.  Alternatively, you could also add more liquid towards the end of the cooking time if you would like a runnier soup than what you ended up with.
Tell me about your Crock Pot Recipe Conversion experiences.  Were you happy with the results?
This post is Day 4 of a 5 day series I'm taking part in with the iHomeschool Network.  There are 19 other bloggers taking part in this fun series.  Some of the other topics include:  5 Days of Bonding with Your Daughter, 5 Days of Decluttering & 5 Days of Homeschooling for the Busy Family.  Click on the graphic below to see the other topics that are being shared!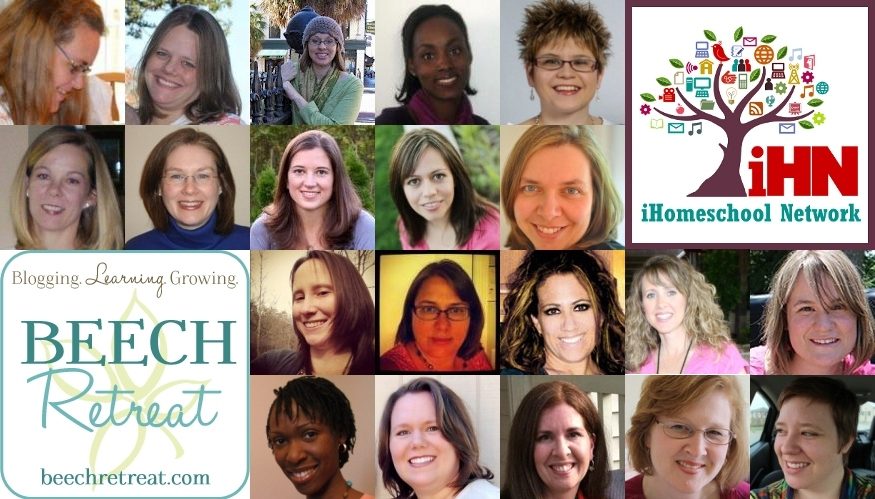 Related posts: