Are you a homeschooler with toddlers under foot?  Do you plan to homeschool but you can't imagine doing a good job while having toddlers that need your attention at home, too?  I do understand!  It can be very hard to wrap your mind around homeschooling and mothering little kids, but take heart mama, you can do this!  Yes, some days are more challenging than others, but with a little bit of thought and effort, we can make our days go a bit smoother!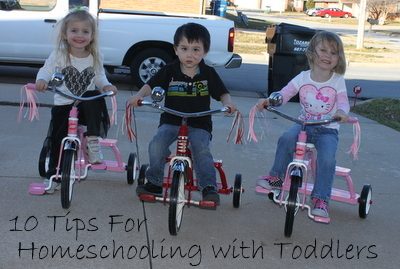 10 Ideas to Make Homeschooling Go Smoothly when you have Toddlers
Keep them Busy – Get yourself a list of toddler friendly activities that you can pull from to keep them entertained.  While free play is often sufficient, sometimes they find ways to make big messes when left to play on their own.  You could try things like the Toddler Bean Activity or playing in the dish water.
Enlist the help of older children – You can have them take turns entertaining the toddlers.  Toddlers love playing with their older siblings.  After all, they want to be just like them!  Assign an older child in 15-30 minute chunks.
Have a plan – Plan meals, plan school and plan your toddler activities.  Everything always goes smoother when you have a plan.
Keep age appropriate toys available – You could keep a basket near the place that you normally do school to pull out when you need them to get distracted.
Try Toddler Busy Bags – Have you ever made busy bags for your kids?  Our local homeschool group just got finished swapping Reading & Math bags for our early elementary kids.  You could do the same thing for toddlers and preschoolers.  If you'd like to check out some more ideas, check out these busy bag ideas.
Keep a regular nap time – Do the more time intensive school while they're sleeping.  It makes the harder schooling times go so much smoother!
Give them a snack – A little bit of food always keeps them busy during quiet school time.  It can also be a good help in making the grumpies go away!
Don't set unrealistic goals – Don't expect to be able to spend 6 steady hours in a huge project.  Break it up into bite sized pieces.  It's easier on mommy and easier on toddlers, too!
Set aside some school time especially for them. – They like to feel grown up, too.  They like to be included.  Set aside some books for story time, crafts for activity time, etc.
Include them in whatever school activities that you can.  (like science experiments, art activities, stories, hands on activities, etc.)  You'll be surprised at how much they pick up and learn just by being around the older kids while they're learning.
This post is part of the 10 in 10 series that I'm participating in with the iHomeschool Network.  The top 10 series is also linked up with Angie at Many Little Blessings.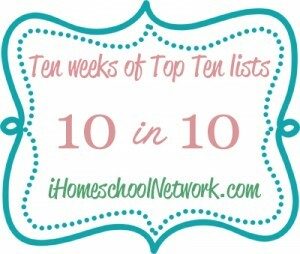 Related posts: