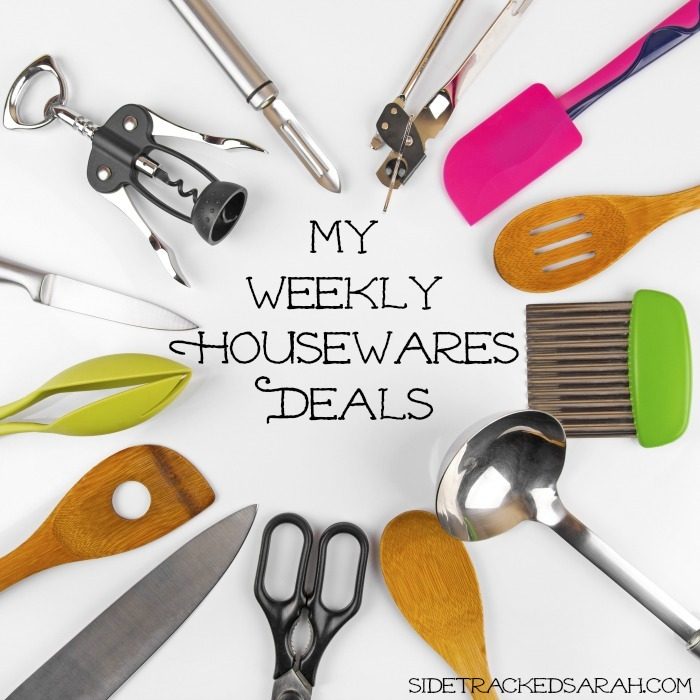 This week, I'm trying out a new thing.  I love getting a good deal and I HATE it when I miss a good deal online.  I'm trying to slowly stock up on Christmas presents so that it doesn't come as a shock when we get to December and I realize I only have 100 presents left to buy, lol.
I've decided to include deals on housewares each week, here on my website.  I'm planning to post them every Tuesday morning.  I would like to expand them eventually to include grocery and possibly coupons, but for now we'll start here.  If you love seeing the weekly deals, let me know and if you hate them, I'd also like to see that.  Of course, as always, with Amazon, be sure to grab it fast, as these prices can change at any moment.
If you'd like a email reminder about the weekly deals, be sure to get on my email newsletter.
WEEKLY HOUSEWARES DEALS


Pinzon Lightweight Cotton Flannel Sham – Standard, Brown Plaid $1.99 (Reg $16.99) (Add On Item)


Artisan Baking Sheet Non- Stick Baking Mat Set – Large $14.63 (Reg $29.99)


Cuisinox Air Tight Canister, 12 by 12cm $7.01 (Reg $15.90)


Oriental Furniture 17″ Natural Fiber Basket – White $12.60 (Reg $44)


DII Bulk Pack Microfiber Cleaning Cloths, 12 by 12-Inch, Olive Green Lattice, Set of 12 $8.83 (Reg $11.99)


Bright Ideas Candle Wax Warmer Gift Pack, Cranberry Tart $7.67 (Reg $14.99)


Elegant Comfort Quilted Furniture Protector for Pet Dog Children Kids Special Treatment Microfiber as Soft as Egyptian Cotton Sofa, Navy Blue $11.38


Premium Moscow Mule Copper Unlined Mug 100 % Pure Solid Copper (16-Ounce, Hammered) with FREE Shot Glass $11.99 (Reg $50)


Thermos Nissan Intak Hydration Water Bottle with Meter, Blue $10.54


BLACK+DECKER CJ625 30-Watt 34-Ounce Citrus Juicer, White $14.71


Good Cook Set Of 3 Non-Stick Cookie Sheet $12.36 (Reg $16.99)


Dash Go Rapid Egg Cooker, Black $14.96 (Reg $38.35)


Contigo Autoseal West Loop Stainless Steel Travel Mug with Easy Clean Lid, 16-Ounce, Black $12.71 (Reg $20.99)


Whitmor 6021-3539-BB Adjustable Garment Rack $12.99 (Reg $24.99)


Acrylic Makeup Organizer Cosmetic Jewerly Display Box 2 Piece Set by AcryliCase® $12.99 (Reg $29.99)
Disclaimer:  These links are affiliate links, if you make a purchase, I will earn a small percentage of your purchase, but you will not be charged any extra.