One thing you will notice with my freezer to crockpot meals is that they are easy to make last minute if you have the right ingredients on hand.  I am whipping this one up really quickly for a potluck dinner after church.  You don't have to freeze them first, but it sure helps when you have a few of these easy meals thrown together in the freezer for you to pull from when your life is in chaos mode, like mine!
Before I share the recipe, many of you have asked me what is the best slow cooker for your family. There are many variables for every family, but I tell you all about them here:  Best Slow Cooker Choices.
This recipe is featured in my Freezer to Slow Cooker, Week 1 ebook.  If you would like less stress this week, you HAVE to try preparing your crockpot meals for the freezer!  Week 1 includes this recipe, plus 5 more recipes AND a shopping list, assembly instructions AND labels, you can print out and tape on your freezer bags if you want to.   Purchase the ebook by visiting here or by pushing the Add to Cart button below.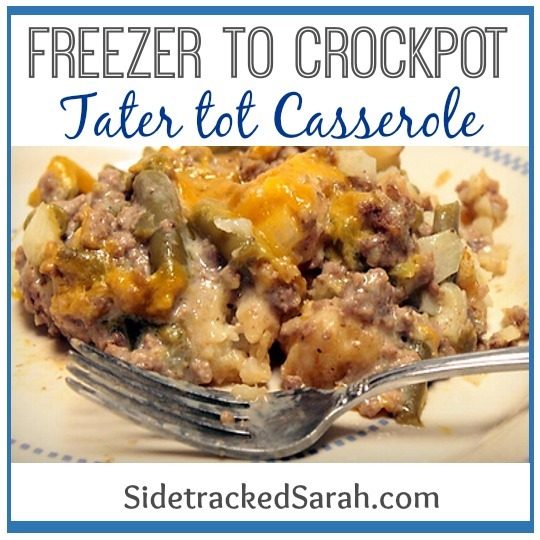 Crockpot Tater Tot Casserole Recipe
Tweet this recipe!
Click To Tweet
1 lb ground beef, browned
½ t. salt
¼ t. pepper
½ chopped onion
¼ c. milk
Cheese (optional for sprinkling over after cooked)
Freeze all but tater tots & cheese in freezer safe bag.
Try to thaw the bag in the fridge, the night before cooking so it will spread out over tots easily.
To cook, line crockpot with tater tots, cover with bag of ingredients.
Cook on low for 6 hours or high for 3.
Sprinkle each serving with cheese.  My family likes to eat ketchup on this.  Here it is, ready to go in the freezer.
I've got 10 weeks (so far) of weekly menus!  The plans are here on the site, but I've received many requests that I provide them as a printable option as well!  I'm slowly converting my weekly menus into printable menus.  Right now I've got Weeks 1-10 as a printable available for purchase!
Don't forget that you can also get a one week menu for free by subscribing by email, too!  You can subscribe up in the sidebar….
*Some of the links in this post are affiliate links.