Have you ever wondered what recipes that you can make in the Instant Pot with ground beef?  I have been looking and looking for Instant Pot Ground Beef recipes and I think I've finally found several favorites!
I love using ground beef, because it's one of the cuts of meat that I almost always have on hand.  But, when it comes to ground beef Instant Pot recipes, I didn't really know what I could make, until recently, that is.
I finally decided to do some research and figure it out.  It turns out that you can make a whole lot of ground beef recipes in the Instant Pot!
The thing about using the Instant Pot for ground beef recipes, is that you can cook the whole recipe in the same pot.  Only dirtying that one pot.  For most of the recipes, you'll start by browning the meat first by using the Instant Pot's Sauté function.  Then you'll add the rest of the ingredients and pressure cook it for a set amount of time, depending on the recipe.
If you buy meat that has much fat in it, you will want to drain the fat first.  I like to use my Easy Greasy Colander to do that.  It has a handy bowl that fits under it, to catch the grease.  After I drain the grease, I typically rinse it, too, to get any excess fat off.
You can see it pictured below…
I currently have the 6 quart and 8 quart Instant Pot.  I LOVE both of them.  I also have a spring form pan that will fit into my pot as well.  This works perfectly for some recipes.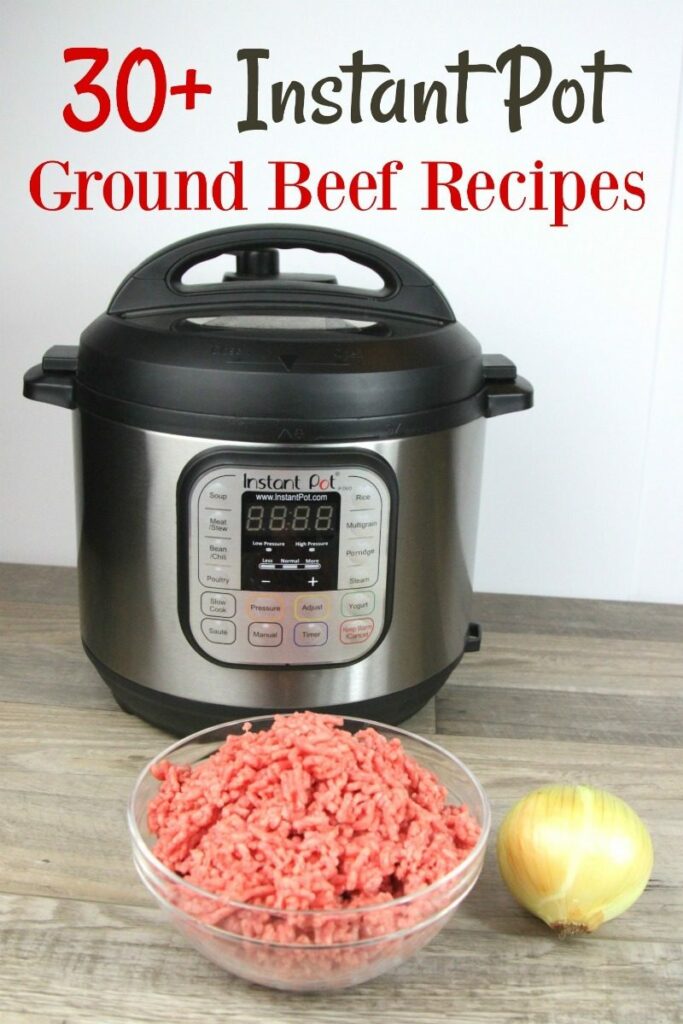 I'm hoping you will find some family favorites out of these 30 plus Instant Pot Ground Beef Recipes.  I know we love so many of them!
Instant Pot Ground Beef Recipes
Instant Pot Ground Beef Stroganoff
Instant Pot Porcupine Meat Balls
How to Cook Frozen Ground Beef in the Instant Pot
Instant Pot Meat Loaf and Mashed Potatoes
Instant Pot Beef & Cheesy Potatoes
Instant Pot Cheeseburger Macaroni
Instant Pot Wendy's Copy Cat Chili
Instant Pot Vegetable Beef Soup
Instant Pot Sweet Potato Chili
Instant Pot Stuffed Bell Peppers
Instant Pot Beefy Broccoli Rice
Instant Pot Stuffed Pepper Soup
Instant Pot Stuffed Cabbage Soup
Instant Pot Healthy Inside Out Egg Rolls
Instant Pot Korean Beef & Rice
Instant Pot Beef & Potato Soup