Before we start, many of you have asked me what the best slow cooker you should get is.  It varies for every family, but I tell you all about it here:  Best Slow Cooker Choices.
I love eating soup in the winter!  We had several days of negative degree temperatures and soup is just what I needed to warm my body.  It's my kind of comfort food!  We had never tried stuffed pepper soup, but we really enjoyed this one.  It really does taste like stuffed peppers, too!
Can you do me a favor and pin this recipe on Pinterest?
Tweet this recipe!
Click To Tweet
Print
Crock Pot Stuffed Pepper Soup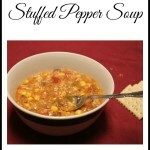 Author:
Prep Time:

20 minutes

Cook Time:

4 hours

Total Time:

4 hours 20 minutes

Yield:

6

Method:

Slow Cooker
Ingredients
1-2 lbs ground beef
1 medium onion, chopped
2 green peppers, chopped
2 15oz cans diced tomatoes, undrained
1 15 oz can of tomato sauce
1 15 oz can of water
1 can corn (optional)
1 cup brown rice (if you choose to use instant or white, you will need to add it at the end or it will be mush)
1 clove garlic
1/2 tsp parsley
1/2 tsp oregano
2 Tablespoons brown sugar
2 tsp salt
1 1/2 tsp pepper
Instructions
Directions:
Place all ingredients in slow cooker and cook on high for 4-5 hours or on low for 7-8 hours.
Hint, the longer this cooks, the more likely your rice is going to eat up all the liquid.  If you find your soup thick, you can add water to it until it reaches the consistency you'd like to see.  Also, if you use white rice, it will be mush.  If you plan to cook the rice in the slow cooker, you'll need a tougher grain, like brown rice.  If you prefer white rice, cook it separately and add it towards the end of its cooking time.
Freezer to Slow Cooker Directions:
Brown Ground Beef
Chop Onions & Green Peppers
Place all ingredients except rice in freezer safe bag.
Label the bag and write a note to be sure to add the rice to the crockpot on the day of cooking.
Lay it flat to freeze.
Looking for my Freezer to Slow Cooker Printable Menus? Go Here! 
*This post contains affiliate links.